Melbourne Market says bye bye to Footscray, Hello Epping.
Supporting our local farmers has never been so important
Our family have been Fruit and Vegetable stall holders in Victoria for four generations – first at the Queen Victoria Market in the early 19th Century, then the West Melbourne Market in 1969, and now, the Melbourne Market has a new home in Epping.
Friday 28th August 2015 was the last trading day for the West Melbourne Market which had been operating for over 45 years. Now we are adjusting to the move to Epping.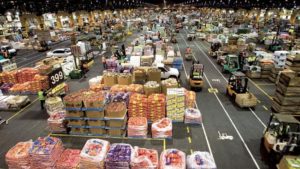 Epping Market 2015
Monday 31st August was the first trading day at the new Epping Market. There has been much angst and uncertainty about the move amongst fellow growers and buyers. Some say they don't have the resources to make the move and others are simply unsure of the future will hold for them. For Red Hill Fresh, it means an extra hour of travel every time, an increase in fuel and toll costs, and more wear and tear on our vehicles. It's a challenge to embrace change of any sort, especially one of this size.
I think now, more than ever, shopping locally to support our local farmers and the community, has never been so important.
Red Hill Fresh is the "farmers market that comes to you".
To get the freshest, organic produce available, delivered straight to your door, jump online at www.redhillfresh.com.au and place your order, or just click on the link below.