Red Hill Fresh delivers all over the Mornington Peninsula with quality Organic fruit & vegetables, fresh from the farm. We also offer a wide range of essential items, such as milk, bread, dairy & meat just to name a few, straight to your door. It's as simple as placing your order online to receive your tailored box of wholesome goodness.
Stuck for that perfect gift or a way to say "Thank You" to someone?
Why not purchase a seasonal box of goodness or make up your own? It's a great way to show your appreciation, a perfect gift for any occasion like birthdays, housewarming etc.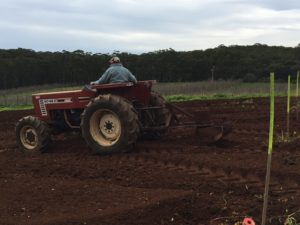 HOW DID RED HILL FRESH START?
Red Hill Fresh was established in September 2010 and is owned & operated by Bec Edwards & her family.
Her husband Brendon, has been a fruit grower for many years and is the 4th generation of his family to carry on the tradition here at Red Hill. Fortunately the family farm has practiced Organic farming methods for quite some time and is Certified Organic through NASSA.
We as a family noticed that organic food really did taste much better & since converting we have never looked back. It was one of the best choices we have made, we know for ourselves that our health & wellbeing has improved.
We are passionate about eating nutritious organic foods, incorporating as much unprocessed foods as we can whilst living a healthy sustainable lifestyle.
My mission is to supply the best and freshest organic produce available and provide our customers with an enjoyable and convenient online shopping experience.
We shop for you as if it was for our own family, if we don't like the look of something, it won't be in your box.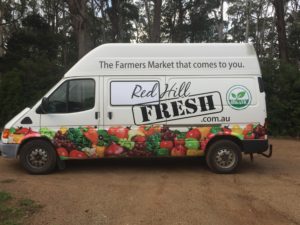 Delivery Information
We currently deliver to the Mornington Peninsula and surrounds.
(We are expanding, so if you would like to receive updates on new delivery areas, please subscribe to our email newsletter)

ORDER CUT OFF TIMES:
FRIDAY deliveries your order must be in by 12pm TUESDAY before your scheduled delivery.
Failure to do this may result in your order not being able to be processed in time. Especially for orders containing bread, meat, dairy & dry goods.
Delivery Times:
Friday between 8.30am to 6pm
WHAT HAPPENS IF I'M NOT HOME TO RECEIVE MY ORDER?
Red Hill Fresh are quite happy to prearrange special delivery instructions, to leave your goods in a safe place.
NOTE: If your order requires special delivery instructions, you must provide this in the 'comment' section when finalising your order.
Unfortunately, if goods are left unattended Red Hill Fresh cannot be held responsible for their freshness or condition.
If receiving Dairy/Meat items or perishables it is strongly suggested that an esky of fridge pack with ice block be left out.
RED HILL FRESH DELIVERY TERMS:
All deliveries to your suburb will be made on the day listed in the 'Delivery Times' section.

You agree to the delivery fee specified for your suburb, unless you qualify for free delivery.
ADDITIONAL UNATTENDED DELIVERY TERMS:
Red Hill Fresh will deliver to your door. If the delivery location will be unattended, please include special instructions in the "comments" section when placing your order.

Where delivery is made to an unattended location, Red Hill Fresh will not be held liable for the condition or security of your order.

Prior payment arrangements must be made for unattended deliveries.
PRICING AND WEIGHTS TERMS:
All care is taken to accurately indicate the cost of your produce order per item.
Your actual final order price may differ slightly due to weight variations of items not sold by weight.

Items ordered by weight, may be slightly over or under the full order, and will be charged accordingly.

Items such as eggs, or juices are fixed cost, due to the nature of these items.

We will try to supply you with produce from our Certified Organic farm, however if that item isn't available, we will select the highest quality Certified Organic produce available at the markets.
If an item is unavailable, we'll leave it out of your order, and you will not be charged for this item on delivery. If an item is of unsatisfactory quality you may be offered a credit for that item in your next order (please see terms of delivery for unattended drop offs).
Sometimes due to seasonal conditions, an item may become unavailable at the last minute. We apologise for this, but unfortunately it's out of our hands, as we pride ourselves on quality.

PAYMENT TERMS & CONDITIONS:
Payment options available are either by C.O.D (cash) or CREDIT CARD.
Payment is to be made on receipt of your delivery if C.O.D or your pre arranged Credit Card will be debited once your goods are finalised.
If you wish to pay by credit card, please select that option at checkout & I will contact you via email, prior to your delivery, to discuss obtain further details.
*Failure to make payment, may result in an additional late fee of 10% of your purchase, being charged weekly until payment is received in full.
If you have any further questions or queries please don't hesitate to give us a call on 0413 017 126 or send a contact request here.
Alcohol
"WARNING
Under the Liquor Control Reform Act 1998 it is an offence
– To supply alcohol to a person under the age of 18 years (Penalty exceeds $8,000)
– For a person under the age of 18 years to purchase or receive liquor. Penalty exceeds $700)"
Licence No. 36136477